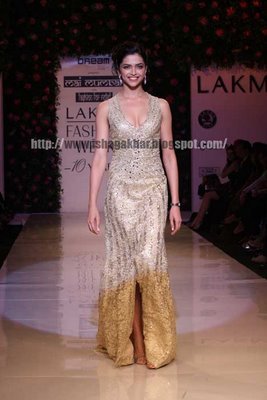 The etheral looking beauty, Deepika Padukone is the iconic modern day dream girl. She talks about the secret behind her beautiful hair and alabaster skin. The girl didn't chases the oodles of product but loves to pamper herself with spas and oil massages. Read on what's dippy has to say about her hair fetish and beauty care....
What are the some of the key fetishes you have about your hair?
I am someone who have always loved a long hair, and naturally blessed with good hair texture and natural shine. I like the quality of my hair because I have very silky straight and at the same time, I have lot of volume and apart from that what I really like about my hair is it styles very well, it takes different kinds of style very gracefully.
Do you always like to keep it long?
Yes always, because there not have been a requirement to change my hair style drastically. I love to experiment some times growing it up, sometimes cutting a fringe but all thing is to do with a long hair.
The secret of keeping it looking this good?
I have a great products to take care of my hair. I use Fiama products that keeps my hair going. Proper care with natural remedies and good food can be the secret for my haircare. I am very careful about the hair products I apply. And, love pampering my hair in the spa or oiling my hair once a while.

How important is a healthy diet for beautiful hair?
It is extremely important, It is the nutritious diet that makes hair or skin beautiful. I keep my meals balanced and simple. Actually, it depends on the diet and lifestyle one follows, it reflects on the skin and hair. I am firm believer that healthy hair is directly related to the healthy lifestyle and good balanced meals.
How much do you color your hair?
I am not much into coloring. I generally color them if it is require for my films or my endorsements. Otherwise, I naturally have dark brown hair so don't need to color my hair very often.

Who is your favorite and regular hairstylist?
Susan

Which hairstyle you prefer most-Curls, straight, short, or anything else?
Straight hair.
How do you manage your bad hair days?
I tie it up. Well, during bad days, a pony tail or a braid can become a good option. To wear a cap or bandanna is good option or to use some kind of products depending on the quality of hair, like if your hair is oily then may be you can put some spray and may be give it some texture, you can put some gel and stick back into a pony tail or if your hair is freezy you can take some anti freeze serum or pin up your hair.
How do you take out time for yourself after a hectic work schedules?
I love pampering myself, If I do get time I like reading, listening music, watching movies and playing sports. I do yogas and spend time with my friends and family, if I have a lot of time then I would like to go spa once in a while.
The worst hair day you've ever had...
Fortunately, never had one. Of course, there have been times when I look back to the older pictures, I think oh god, how could I have done this to my hair or how could I have done this styling. Apart from that, I don't think I really had a bad hair day as such, that's what I like about my hair, they behaves well.

What kind of products you use for styling?
I am very particular about the kind of products I use with my hair. I use Fiama shampoos and conditioners.

Do you think hair extensions affect the hair?
I don't know, I guess it depends on where you get it done and how you take care of them.
Deepika's FAVOURITE LOOKs
Out of all your movies, in which movie you had the most interesting hair style? And who was the hair stylist?
Om Shanti Om for sure, where the Dorice is my hair stylist. I got a chance to do very ethnic hairstyles, how old heroines use to do, and you hardly see this in Indian cinema today.
Do you transform your look in the evening? What hairstyle and make up you prefer with that look?
For evening, I would rather prefer pony tails, creating low buns, messy buns. It gives a very elegant look. And, sometimes I blow dry my hair an leave it open, may be pin up at the front, it actually depends what on what I am wearing also. I hardly wear make up except when I am shooting.

A make-up look you really admire?
Audrey Hepburn.